Under the Walnut Tree

Installation
2023


Flowing threads drip onto the floor, blackened plastic forms encrusted bubbles, and the white architecture collapses in on itself. "Under the Walnut Tree" is a series of burnt and melted Monobloc chairs. The once functional object and symbol of modern mass production, found on exotic beaches and small balconies on the tenth floor alike, undergoes a transformation. The twisted and crooked sculptures tell a story of leisure, transience, destruction, and human influence. Heat remains a passive element in this work.




Concept and realization: T(n)C
Documentation 'Cool Machines': Matthias Guido Braudisch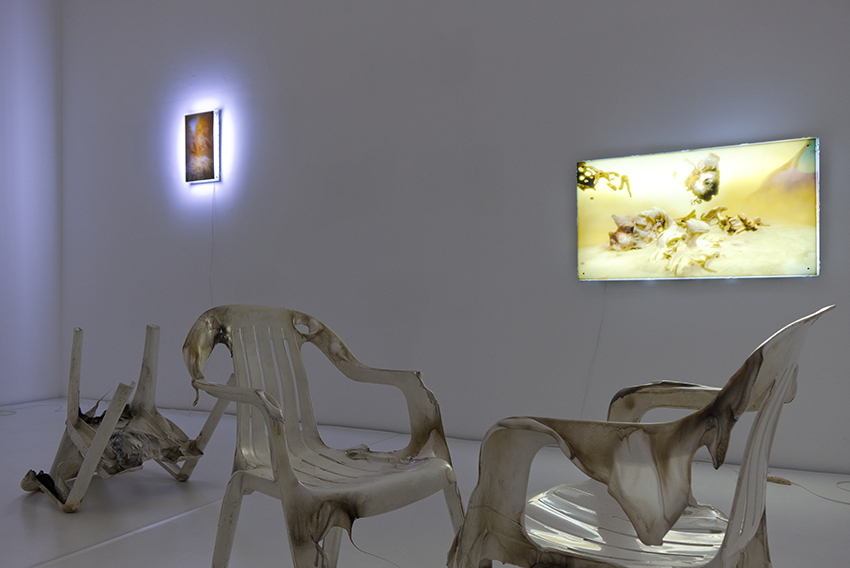 Days (light box)

light box series
2023



The Days series explores the collective fascination of the consumer world with exotic destinations and how these locations have become a modern synonym for paradise. Although humans are aware that their actions undermine the existence of these landscapes, they are unable to resist them. The series looks at the ambivalent relationship society has developed with these picturesque corners of the planet. The exaggerated images reflect both the fascination with striking lands and the impact of this obsession on them.




Concept and realization: T(n)C
Documentation 'Cool Machines': Matthias Guido Braudisch

Retraining Laziness

4 chapter experimental video series each ~ 4'-5'
2023


Fueled by an economic system that evaluates each individual based on their productivity, humans and machines are in competition with each other. In an effort to improve in order to stay relevant and benefit the society they belong to, they find themselves in a constant mode of self-exploitation. One works because one can, and not because one must. But due to an anomaly a robot abandons the assembly lines to explore an idle and independent existence.

The video series Retraining Laziness follows a conversation between a human worker and a malfunctioning robot as they discuss unhealthy production conditions and their own relationship to work and time.
Concept and realization: T(n)C

Sound: M T Hall
Voices: Aila Ben Franken, Caroline Baas
Vocal recording: Daniel Bucher
Additional 3D and animation: Péter Várnai
3D scan / puppet: Chris Harrison
Text and graphic support: Sebastian Grande, Ráhel Anna Molnár
Thanks to: Benedikt Scheitnagl

Documentation 'Cool Machines': Matthias Guido Braudisch

With the support of:


European Media Art Platform, Bundeskanzleramt, 22. Bezirk/Donaustadt

Documentation 'Cool Machines': Matthias Guido Braudisch